Chain link curtain with sliver track
Chain link curtain is the preferred choice for window curtain, doorway fly screens, space dividers, also suitable for lamp decoration and stage sets. The tracks appear to be particularly important when you choose the chain curtain wisely for your decoration design.
In order to make your decoration goes well, there are three types of tracks for your choice.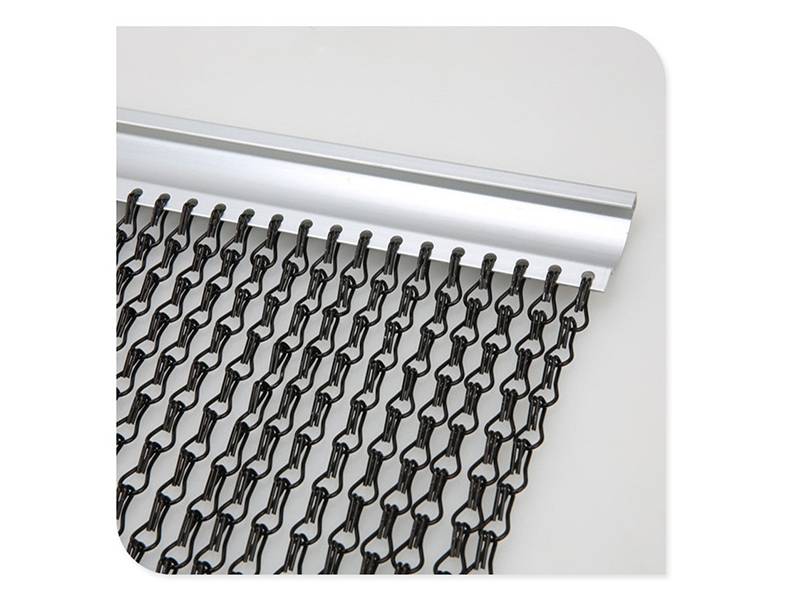 Chain link curtain with fixed track
Fixed track is a straight one which have uniform holes. It is the most common and economical type track. Fixed track suitable for the straight designed chain link curtains which will installed on the wall or ceiling and don't need slid to open and close. It is firm and durable.
Flexible track for chain link curtain
Flexible track, is your best choice when you need to open or close the chain link curtain frequently. With several rings to connect the track and chain link curtains, it can slide smoothly to left or right flexible. This flexible track type especially suitable for the installation of room curtain, restaurant space dividers.
Cambered track for chain link curtain
Cambered track has cambered shape which can adapt to cambered installation conditions. Like the fixed track, it can not be slid to open and closed, too. It can satisfy the applications of high-end hotels or restaurant for space divider, office buildings to design a cambered space and other cambered shapes partition design.
Installation scenarios of chain link curtains